December 20, 2020, 9:48p12
83 Views
Ah those memorable Christmases in Singapore with the De Lanerolle Brotherzzz …..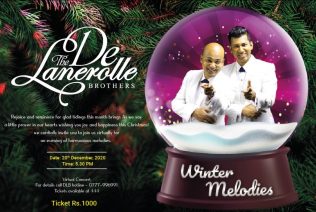 As Sri Lanka's internationally renowned De Lanerolle Brothers, Rohan and Ishan, launch their Christmas 2020 'virtual concert' "PREMIERE" tonight, 20th December 2020, my mind goes back to numerous Christmases, we, together with our families have spent in Singapore right up until last year.
Come this time of the year and the DLBros and wives and children head to Singapore where they are hosted by CCIS and St. Andrew's Cathedral.
Apart from the array of 'kits' they have in their luggage, they also have with them, (and in duplicate versions too) their backing tracks, which have been carefully arranged and recorded by maestro Shobi Perera.
Among their performances in Singapore, and that too daily, are those at the St. Andrew's Cathedral, the lunch-time concerts at the Cathedral café, the St Andrew's Elders' Home and of course Orchard Road.
The Cathedral performances were started by Rohan in 1996 and have continued since with the introduction of Ishan from 2001. Last year one of Rohan's Choirs in Indonesia of which he is the Artistic Director sang on invitation and the other choirs from India are to be part of the celebrations in 2021.
The Cathedral cafe performances have been a new initiative since 2017. The seats are filled up long before the Brothers even arrive at the venue. It's a very relaxed and convivial atmosphere here and I've often stood at the back with their families and watched the videoing and selfie-ing by the audience that comes to lunch here.
Rohan and Ishan then rush to the Elders' Home to sing to the inmates there. This is their Outreach Performance since 2019 and is greatly welcomed and appreciated by the inmates. The looks on their faces say it all.
The performance on Orchard Road is lovely. It generally happens outside the WISMA and ION Mall anytime from 7.30 pm to 10.00 pm.
And as the DLBros get ready for show time, as lots of others do, we too sit on the steps and wait for show time ….. we as in Shahnaz, Neyomi, Yohan, Kaliya, Anarkali my daughter, myself.
There are many Sri Lankans too in that audience, those on holiday from Colombo and even those Sri Lankans from overseas.
There's sometimes Rushan Hewawasam from Australia and many other Sri Lankans including Mohan Meegolla, Sunil Amarasuriya and wife, Dinesh de Mel, Dean Martin, and not forgetting Rohan's friends from Singapore Airlines whom he worked with for 14 years. I now understand how Rohan knows all the streets of Singapore and their intersections like the back of his hand. He makes the perfect Tour Guide.
A nostalgic Christmassey feeling pervades the air on Orchard Street with chestnuts roasting in open fires, Singapore style. The festive cheer is very tangible with holiday makers in their numbers, gathering, sitting, watching, listening, sitting, selfie-ing and video-ing.
And as the performance begins, Rohan, the older one, the more talkative one and the 'louder' one, proudly says, "Good Evening Ladies and Gentlemen from all around the world, we are the Delanerolle Brothers and we bring you Greetings from Sri Lanka …..…"
The Orchard Street performances are in themselves a feel-good experience as Rohan and Ishan take their audience through an assortment of Christmas carols and songs to the appreciation those present.
Last year also featured the Friscilia Mixed Choir from Manado, Indonesia which Rohan trains and conducts and that was a double treat.
Rohan and Ishan know how to play to their audiences and so they sing not only to those on the boulevard, but they remember to turn around and sing to the passengers video-ing them from the tops of the open air busses that drive past very s-l-o-w-l-y. The response is enthusiastic and appreciative.
After the performance is over it takes about half an hour (minimum) for the boys to join us. We watch them posing for selfies with lots of holiday makers from the audience. I've often heard people (regulars to Singapore at Christmastime) tell them how they never fail to miss "the performance by the Sri Lankan Brothers". It just goes on.
It's now almost 10.00 pm and it is then that we finally have time all to ourselves, together, and the night 'begins'. This is the fun part. Ravenously hungry we head to a restaurant for dinner. More than the food it is the talking that takes precedence. The food becomes a prop and an accidental feature.
Very often we have talked and talked and talked late into the night and then realized how dark it had become. It is now long past closing time, and patient and polite as they were, the staff has gradually begins the switch all the lights off, save for the one above us. In other words they we are telling us – "Now please get the hell out of here you people"
Last December, after once getting kicked out late into the night in similar manner, we continued walking, looking for taxis to take us back to our respective hotels. And then lo and behold there was an Indian restaurant open, its lights were on too and the smell of spicy Indian food assailed our nostrils into our brains.
It felt like home and so in we went, plonked ourselves and tucked into tandoori chicken, fish tikka and the works while the naans and paraatas flew off the fire and right onto our plates. Had to wash them down with steaming hot milk tea / milo etc. Shamelessly stuffed like pythons, we crawled out and looked for taxis.
Hailing taxis at 1.00 am or 2.00 am on the streets of Singapore is another story. We thought hailing them would be easier than going through the GRAB app.
And so we hailed passing taxis. They slowed down and they looked at us and when they saw us they drove past. Rohan and Ishan burst into song to while away the time …. the children join in … while the wives blanche in embarrassment.
This went on for about half an hour until we realised that we were a group of eight or nine (with Rushan) persons. The minute we stood in three separate groups, the taxis appeared from nowhere and whisked us way.
This year has been different with the Covid-19 pandemic and Singapore is obviously out of the question.
The DLBros have however not let their fans down for at 5.30 this evening is their virtual concert PREMIERE – 'Winter Melodies'.
Why Premiere : it's because the Brothers set the standard again with a novel idea where others will now follow by paying to witness a concert and I am told over 25 countries are tuning in….!! Bravo brothers you've set high standards as always and, as Sri Lankans, we wish you all success.
"Rejoice and reminisce for glad tidings this month brings. As we say a little prayer in our hearts wishing you joy and happiness this Christmas we cordially invite you to join us virtually for an evening of harmonious melodies" – The Delanerolle Brothers