December 5, 2014, 8:03 pm
No Comments
84 Views
World premiere of 'An American in Paris' at Paris' Châtelet Theatre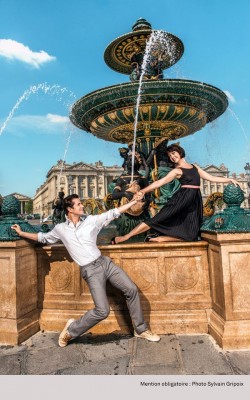 Paris hosts opening run of stage-version of An American in Paris
http://www.paris.fr/english/english/a-forthcoming-broadway-show-holds-its-world-premiere-in-paris/rub_8118_actu_146689_port_19237
The world première of an English-language musical in Paris? It may sound unusual but Parisians and visitors to the French capital are in for a treat with the forthcoming production of An American in Paris which has been adapted from the screen to the stage and will enjoy its world première and opening run in one of Paris' most prestigious cultural venues before hitting Broadway in 2015. From November 22nd until January 4th, the Théâtre de Châtelet will host Christopher Wheeldon's theatrical adaption of the classic movie An American in Paris, itself inspired by George Gershwin's symphonic poem. The show will then head to Broadway on April 12th for a 2015 season in New York.
Set in recently liberated Paris, American World War II veteran Jerry Mulligan is eager to make a name for himself as a painter. With the help of fellow expat Milo Davenport, a wealthy American with a past she wants to forget, Jerry's life becomes complicated when he meets Lise, a young Parisian shop girl with her own secrets. Soon, it becomes clear that Jerry's friends Adam and Henri also vie for Lise's love. This romantic tangle can only be untied trough the miracle of dance set to some of the most memorable music and lyrics ever written. A monument of American cinema about young souls in Paris which won six Oscars in 1952, An American in Paris has been reimagined for the theatre and is the first co-production between a Parisian theatre team and American producers.
An American in Paris will be presented in English by a 26-member Broadway cast which includes Robert Fairchild as Jerry Mulligan, Leanne Copes as Lise Dassin, Veanne Cox as Madame Baurel and Jill Paice as Milo Davenport. Fairchild is currently a member of the New York City Ballet and has been for the past 5 seasons. Leanne Cope was trained at the Royal Ballet School and was promoted to First Artist in 2009 allowing her to create original compositions.
This is a great opportunity for anglophone audiences visiting or resident in Paris to enjoy a show in one of Paris' most breathtaking theatres. To purchase tickets, please visit the website of the Théâtre de Châtelet
About an American in Paris :
In 1924, composer George Gershwin and his wife Ira visited Paris and were enchanted by the unique and thrilling atmosphere the "city of lights" has to offer. They met a number of composers during their stay such as Stravinsky, Ravel, Milhaud and Poulenc who gave them their recognition and encouragement. An American in Paris, composed in 1928, was a vehicle for Gershwin to express his feelings towards Paris through lyrics and music. The film version was released in 1951 and received six Oscars. In 2014, New York City Ballet director and choreographer Christopher Wheeldon adapted the movie to the stage and asked Paris' Théatre du Châtelet to participate in the development and production of a show with a unique history and meaning to both France and the USA.
The world première of this captivating story will be performed in one of Paris' finest theatres. Located in the heart of Paris, the Théâtre du Chatelet is surrounded by charming pavement cafés and restaurants where theatre-goers can enjoy a drink or a bite before or after the show. The theatre itself is an architectural jewel featuring golden ornaments, a huge glass dome and red velvet seats which will whisk you away to a bygone era.
SOURCE –  http://www.paris.fr/english/english/a-forthcoming-broadway-show-holds-its-world-premiere-in-paris/rub_8118_actu_146689_port_19237