February 1, 2016, 7:11 am
79 Views
The world was his canvas … he was both the palette and the brush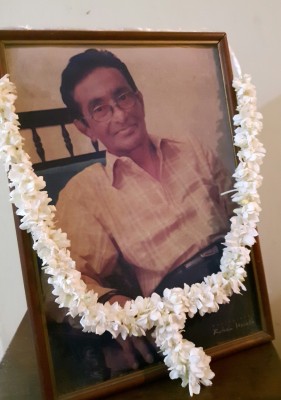 By Kumar de Silva
The world was his canvas and on it he splashed his kaleidoscope of colour and his joie de vivre. He was both the canvas and the paint. He was both the palette and the brush. That was Kirthi Sri Karunaratne.

Small in stature and soft spoken to match, KSK was, on the contrary, a multi-faceted giant whose imprint on Sri Lanka's fashion industry over seventy years has been incomparable.
Born eighty five years ago on 28th November in 1930 to Charlie Karunaratne and Debicia Samarasekera, he was the second in a line of five boys – Ranjith, Chitra, Mahnil and Shanthi.
Kirthi was the creative one. It seemed an inherent part of his biological composition. He sketched and drew. His first foray into designing and dressing was in his early teens. Debicia his mother was both his muse and his guinea pig. The bond was symbiotic and the journey began. There was no turning back and all that followed is now contemporary Sri Lankan couture history.
His journey took him to Rome where he worked with designer Emilio Schubert, to London to couturier John Cavenagh. It also took him to Paree to the House of Christian Dior where Kirthi (who had mastered his art by that time), had even been told that he had "nothing to learn" ('vous n'avez rien a apprendre') from them since he knew it all.
Years later in the 1980s when Pierre Cardin visited Colombo, Sri Lanka presented the work of her couturiers at a gala soiree at the Lanka Oberoi. KSK was one of them. His stunning collection celebrated the intricacy of pillow-lace (beeralu) and Cardin was heard to exclaim "O la la" which translates into English as the modern day "Wow". Such was the acclaim KSK attracted.
His creativity sensibility was not confined to clothes alone. He hit the silver screen in Manik Sandrasagara's 'Kalu Diya Dahara' and Dr. Lester James Peries' 'Nidhanaya'. Even to this day he is best remembered as the incomparable 'Mister Nirwasthara' in Manik's 'Colomba Sanniya' teaching the raw Geetha Kumarasinghe the finer points of déportement and finesse.
Kirthi was also a frequent feature at the Lionel Wendt, acting on stage and/or handling costume design and he excelled in both. Nattily dressed and ready to report for his columns, he was similarly a frequent feature at the races in Nuwara Eliya, where Ascot was most often outdone.
A connoisseur of good food and wine and a great cook too, his 'haruku muss' (jaggery-ed beef) was a regular feature in his kitchen. We also know of his penchant for the most pungent Roquefort coupled with a vintage wine. He loved his whisky too.
He had an inexhaustive fount of joie-de-vivre. He sang and was a great dancer too, tripping the light fantastique like an over-charged teenager, when most others his age ended up panting and sweating on the closest chair.
Totally contrasting to the very flamboyant profile he had in Colombo's social circles, KSK was also very much a family man.
His brothers Mahnil and Chitra died when they were 24 and 42 respectively. Ganjali was still pregnant with Manomi when Mahnil died. Deeply saddened, KSK made it his raison d'etre to help bring up their children – Gihan (15 months) and later Manomi, and also Romesh (13), Amal (4) and Shalini (3).
He was a true father to them. Gihan recalls, "I was in Grade 03 and Norris Canal Road was heavily flooded one day. I remember him coming to Salgado Bakery as I was trying to walk back from school (Ananda) and carrying me home on his shoulders in the pouring rain. Such was his paternal concern".
"My biological father passed away before I was born, but we never wanted for anything. Kirtha seamlessly and happily filled the role of father supporting us in ways that we would never be able to thank him for. We never felt the void of a father because he was that and the best friend we could have ever asked for", adds Manomi gratefully.
KSK's 70 year journey in couture saw him dress thousands of women from different parts of Sri Lanka and from assorted social strata. The plain ones he made pretty and the beautiful ones he made "beautiful-er". He celebrated them all in his columns. This made him greatly sought after. They loved him to smithereens and he was a 'must-have' on their guest lists.
KSK expected to hit the nineties in 2020 but he might have had a premonition …. Early this year when he first went to hospital he had made this entry in his diary addressed to Gihan and Ravintha, his two nephews. I was one of the very few, privy to reading this, when the family opened his diary a little while after his demise that 01st November morning.
It read thus: "Gihan and Ravintha, when I die ensure – NO funeral. No religious rites. NO mala batha. NO embalming. CREMATION within 12- 24 hours. Ashes to be thrown into the sea. NO casket – a simple coffin. Corpse dressed in shirt and trousers only".
"Some of his wishes were obliged. However it could not be the private adieu Kirtha wished for. He was a public figure and could not be sent away silently", Gihan said at the parlour that night.
The circle of life is all about impermanence. Nothing lasts, not even loyalty at times. As Kirthi lay on his sick bed for months, large numbers of those personalities celebrated in his fashion columns slowly faded away. There were other flames to gyrate around. Only a very loyal few remained, kept in touch and remembered to visit the ailing KSK. He was deeply saddened but he rarely showed it.
And so he passed away, mercifully NOT knowing of their conspicuous absence at the parlour that single night, and their even more conspicuous absence at his cremation the following evening …
(This article originally appeared in the December issue of the HI Magazine which paid tribute to the late Kirth Sri Karunaratne)