December 12, 2015, 9:48p12
2194 Views
The peals of your laughter still ring in my ears …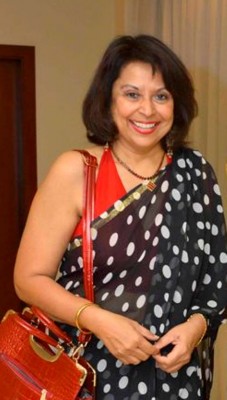 Prof. Manique Gunasekera.
29th November 1953 – 04th December 2015
The passing away of Prof. Manique Gunasekera in Michigan in the USA on Friday 04th December, just four days after her 62nd birthday, came as a horrible shock to those who knew her and loved her.
Among those thousands were generations of her students from the Department of English of the University of Kelaniya to which I once belonged, firstly as an undergraduate and then very briefly as a lecturer.
Way back in 1981, the Dept of English at Polwatte "on the other side of the campus hill" was more a glorified chicken coop, into which were stuffed an assortment of undergraduates from different economic and social and intellectual and lingua strata.
Atop the shoulder-level white-washed brick walls was a mesh which rose up to be crowned with a 'takarang' roof. During the hot months it mildly grilled our heads and during the rainy months it generously amplified the pelting rain, making audibility a near impossibility.
'Miss Manique' to simply 'Manique'
As we entered campus, into this drab ambiance walked in "Miss. Manique Gunasekera". She was a stunning sight to behold and one who brought in a riot of colour to the austere precincts of the Polwatte English Dept.
To us, impressionable undergraduates, Manique was a far cry from the image we had of the traditional "university lecturer". She broke all barriers by prohibiting us from calling her 'Miss'. "Just call me Manique men", she said. And so we hesitatingly conformed much to her great amusement.
Manique – the Local 'Dayana'
It was a treat watching her, impeccably attired, stride up the campus hill, past the main canteen and them downhill to the English Dept. She carried off whatever she wore and with great aplomb too. There she was, on different days, in bell bottoms, shalwars, dungarees, shirt and trouser AND when she wanted to 'feel traditional' – the saree. I don't think she knew that she had hundreds of undergrads from other departments and faculties stare at her, firstly in disbelief, and then in admiration.
Once when Chamani Herath (now Pathirage), one batch junior to mine, was being ragged, her tormentors has pointed to Manique as she majestically strode across campus, and said, "Annna ara balapang balapang Local Dayana yanawa" (Look, there's the local Diana). Poor Chamani didn't know whether to laugh or cry.
Manique's impeccable dress sense extended beyond the boundaries of the University of Kelaniya, and that was obviously to be expected. Once, a few years ago, at a Singapore National Day celebration, I passed by a table, and politely returned the smiles I got from the guests seated there.
Hibiscus and a Wrap Around
When I passed it a second time, one of the guests pointed to one of her friends (who was dressed in a wrap-around knotted at the top of her chest, her hair cascading over her shoulder and with a large hibiscus flower stuck on one her ears) and asked me, "Don't you recognise this lady?".
I looked hard and apologetically said a polite 'No, I'm sorry I don't" at which point that lady gave an impish smile and said "Chile I'm Manique Gunasekera". I f-r-e-a-k-e-d out in embarrassment and only didn't worship her in apology. "OMG Manique I didn't expect to see you dressed like this", I exclaimed.
"But isn't this a posh diya-redda", I later whispered into her ear. "I came home late and got late to shower men, so this was the fastest I could get into", she said smilingly. Manique was easily one of the very few best dressed women that evening. Such was her skill with clothes.
Lectures alfresco
If I remember right, Manique did the Romantic Poets and the History of the English Language among other subjects. She had a magic knack of getting, and then maintaining, our rapt attention to every lecture she did with us. When the weather was good, her lectures were in the Polwatte Garden.
There we were seated on the grass, tickled by 'thuththiri' with not-too-far-away blobs of fresh cow dung looking like green mousse-au-chocolat and journeying with Keats and Wordsworth et al.
We were rudely jerked back to reality when the 'gamay harak' (village cattle) came back to claim their grazing grounds or the campus dogs frantically pursued their female counterparts who were in heat.
"Girls-Boys-Flowers-Fruits-Animals- Things"
Some of her lectures were at one in the afternoon when we were just after a hearty meal. It was sleepy time. Being the perceptive and resourceful person she was, she quickly transformed the lecture into a literary game. She replaced "Girls-Boys-Flowers-Fruits-Animals- Things" into "Hero-Heroine-Villain-Author-Book-Poet-Poem-Playwright-Play". Our sleepiness flew out of the tightly bolted window of the air-conditioned room. No, we didn't feel ridiculous playing this game simply because she transformed a childhood plaything into an intellectual exercise and made us feel platonic too. It felt good, believe me.
There were odd days and odd times when we treated ourselves at the little gamay canteen near Polwatte. The steaming hot rice was beckoning, the parippu made us salivate, and, numbing our jaws was the very tangy miris-maalu curry with its "green" bones (excessive formalin I was later told). Manique joined us too for the 'afters' which was rustic version of milk toffee washed down with plain tea.
We grieve deeply, because we are human !
Ever since the news of her untimely demise reached Sri Lanka, expressions of grief by her stunned students have been splashed all over Face Book and other social media. They connected with each other from all parts of the world. But then again at the same we all realise that Manique would NOT want us to grieve. If she were around she would certainly chide us.
Manique was the epitomy of sheer exuberance and boundless joie de vivre. She made it infectious too. She was more than just a lecturer. She was a great friend, mentor, confidante, older sister. Above all of that she was a great human being in every sense of the word.
Yes, she was the most sophisticated, yet a down-to-earth national minded Sri Lankan, who was brought up in Colombo 7, studied at Holy Family Convent, Bambalapitiya, soared through her academic career, lectured at the University of Kelaniya BUT took pride in signing her name in her mother tongue. A true daughter of Mother Lanka !
Yes Manique we grieve, we grieve deeply, because we are human. But as you would wish it to be, we shall also celebrate your life and times and for all that you have been to us.
We loved you for everything you were to us, and we still do. I can still hear the silvery peals of your laughter ringing in my ears …
May your journey through Samsara be speedy !!!
Theruwan Saranani !!!
PS – Manique's remains were cremated at Ann Arbor in Michigan in the USA on Monday 07 December. Her ashes, I'm told will be brought to Sri Lanka during the course of this month. Three events have been organised to celebrate the life and times of our beloved Prof. Manique Gunasekera.
MON 28 DEC 2015 – Memorial Service at All Saints Church at 6.30 pm organised by the family.
TUE 29 DEC 2019 – Celebration of Manique's life at 4.00 pm at the SLFI organised by some of her very close friends.
MON 04 JAN 2015 – Celebration of Manique's life organised by the Department of English of the University of Kelaniya at the SLFI (Sri Lanka Foundation Institute).
I browsed the internet last night, looking for a poem which would mirror the essence of Manique G. and this I believe is the "perfectest" …

Do Not Stand By My Grave And Weep
By Mary Elizabeth Frye
Do not stand at my grave and weep
I am not there; I do not sleep.
I am a thousand winds that blow,
I am the diamond glints on snow,
I am the sun on ripened grain,
I am the gentle autumn rain.
When you awaken in the morning's hush
I am the swift uplifting rush
Of quiet birds in circled flight.
I am the soft stars that shine at night.
Do not stand at my grave and cry,
I am not there; I did not die.
(http://www.familyfriendpoems.com/poem/do-not-stand-by-my-grave-and-weep)