December 12, 2014, 9:48p12
No Comments
36 Views
Strasbourg voted best Christmas market in Europe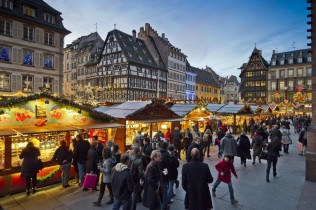 Strasbourg, the oldest Christmas market in Europe and the city that calls itself the capital of Noel has been voted Europe's best Christmas market for the second year in a row.
For 10 days in December, travelers were invited to vote in Europeanbestdestinations.com's second annual survey of Europe's best Christmas markets.
This year, the poll drew 71,622 votes from 83 countries, a 23 percent increase in participation from 2014, its inaugural year.
And nearly a quarter of voters (16,759) agreed that the French Alsatian city of Strasbourg puts on the best Christmas show in Europe.
"I come from Portugal every year with my niece to see the Christmas market and we will be there next year too because going to Strasbourg at Christmas is a dream for us, it's emotional and fascinating," said one fan of their Christmas market pick.
The Alsatian city that borders Germany has a long tradition of hosting open-air festivities during the holidays, with a history that dates back to 1570.
The scale and scope of the Strasbourg Christmas market is impressive: for one month, 300 winter chalets are spread over 11 sites within the city center, making it one of the largest of its kind in Europe.
The city is also illuminated by hundreds of kilometers of Christmas lights and decorations and features a children's village and more than 500 concerts, events, and shows.
This year, Belgium is the guest country of honor.
While Strasbourg took the top title, Germany dominates the index overall with four spots on the list including Aachen, Nuremberg, Dresden and Cologne.
Here are the top 10 Christmas markets in Europe, according to voters at Besteuropeandestinations.com:
1. Strasbourg, France
2. Aachen, Germany
3. Vienna, Austria
4. Nuremberg, Germany
5. Lille, France
6. Dresden, Germany
7. Brussels, Belgium
8. Cologne, Germany
9. Manchester, England
10. Prague, Czech Republic
SOURCE – http://news.yahoo.com/strasbourg-voted-best-christmas-market-europe-154148261.html;_ylt=A0LEVzYIJ4tU7dMA0jZXNyoA