December 9, 2014, 9:48p12
No Comments
893 Views
Softlogic Office Automation unveils next generation Panasonic Toughbook Laptops and Toughpads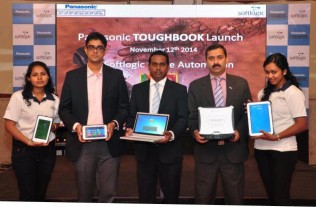 Colombo, Monday 09 December 2014. Softlogic Retail (Pvt.) Ltd. a pioneering subsidiary of Softlogic Holdings PLC in collaboration with Panasonic India recently introduced Panasonic Toughbook Laptops and Toughpads- the world's first Windows 8 enterprise-grade Ruggedized Mobile Devices for the Sri Lankan market. This follows a combined and continued effort by both the companies to focus on product differentiation coupled with developing innovative technological solutions in the Asia Pacific region with more focus on the Sri Lankan market, given the huge potential that exists in the country.
The Panasonic Toughpad FZ-G1 is the world's first Windows 8 enterprise-grade ruggedized tablet. Designed for mission-critical and highly mobile workers in fields such as the military, construction, healthcare, public safety, utilities, retail, maintenance, supply chain logistics and insurance, the Toughpad FZ-G1 delivers reliable performance under circumstances that render typical tablets non-operational like drops and exposure to extreme temperature. Extremely durable and secure, these solutions are ideal for mobile workers, combining highly secured data and device management while offering seamless connectivity and enterprise-grade technology.
"Tablets and handheld computing devices are going to be significant drivers of enterprise mobility globally. Businesses can expect to benefit from the efficiency and increased productivity as a result of the anywhere, anytime access offered by these devices. With our engineering reputation for reliability and durability, Panasonic is well-positioned to meet this increasing business need and we aim to achieve 50 percent market share in the ruggedized tablet space by 2015." said Mr. Gunjan Sachdev, General Manager and National Business Head, Panasonic India.
Speaking about the new products, Mr. Chaminda De Silva, Director Softlogic Office Automation said, "With its high-class tough performance, connectivity, long battery life and advanced technology, these devices are the perfect work companion for all business professionals leading a rugged life. With a long standing commitment towards providing value to consumers with our products, we have been successfully setting new benchmarks across product categories. In line with this, the Panasonic will continue to meet the expectations of its customers across the spectrum."
Mr. Pulkit Nanda, Zonal Sales Manager- South India and Sri Lanka, further added, "With the success of our rugged computing solutions in Indian conglomerates, we are excited to penetrate in new potential markets like Sri Lanka with offerings that are designed to improve the efficiency and productivity of the mobile workforce."
CAPTON FOR PHOTO: In the photograph (L for R) are Ms. Dharshika Thambiraj – Softlogic Office Automation, Mr. Pulkit Nanda – Zonal Sales Manager – South India and Sri Lanka, Mr. Chaminda De Silva, Director Softlogic Office Automation, Mr. Gunjan Sachdev – General Manager and National Business Head, Panasonic India and Ms. Dulani Tharika – Softlogic Office Automation