December 1, 2015, 9:48p12
1473 Views
Rolling out the red carpet for "Season's Blessings" at the Kingsbury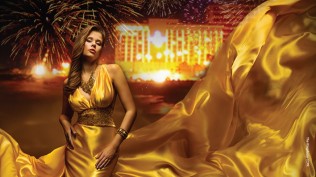 With its steadfast timeless spirit, the Kingsbury Hotel rolls out the red carpet at the start of the holiday season with the lighting of the Christmas tree on December 1.
This year, the Kingsbury spirit will focus on the joys of giving and sharing, the happiness of friendship as friends and family, from near and far gather together to share in this wholesome season to evoke blessings on all of Sri Lanka.
As always, the Kingsbury Christmas tree, located in the Hotel's stunning lobby reaches up to the ceiling and will be adorned with the traditional colours of Christmas, red and white.
As the lights come on, the season will begin at the Kingsbury heralding a month-long celebration of decadence and delightful delicacies.
The Hotel's new General Manager – Scott Mawhineey will be hosting the annual Christmas cocktails for special guests who have made the Kingsbury a home away from home during the past year.
For many, the hotel has been a place to meet and greet, to dine and wine, and to enjoy the timeless hospitality that makes their visit at this hotel unforgettable. For others, this hotel has created memories that will last a lifetime and hosted special occasions that will be etched in their hearts forever.
All that's naughty and nice at The Kingsbury Gingerbread House
Christmas is not complete without the indulgence of mince pies, candy cane and cake. Ask any man, woman or child who is young at heart and filled with seasonal cheer, and that includes our famous, bearded, roly-poly man of the season, Santa Claus.
This year's Gingerbread House located at 'The Cake' (lobby level, high tea restaurant) is stocked with a delightful, delectable and delicious array of Christmas goodies. From freshly baked assorted breads to pies, and cakes to cookies, we have it all.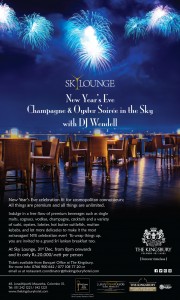 You can either sit down at our comfortable lobby area and enjoy your treats or have it packed to go. We also undertake special orders and will even have it delivered if it suits you better.
You could also hand pick the items needed for an exclusive hamper or work out with the advice of chefs, how best to design your hamper, that way its personalized and packed with love.
Another 'treat' at the Kingsbury this season is the photo booth. Located right next to the Gingerbread House, visitors and guests can now get a seasonal keepsake photograph taken under the ubiquitous mistletoe.
So bring your family and friends, lovers and sweethearts, colleagues and work mates and get this special keepsake that will remind you of the wonderful year past and make this yet another wonderful memory of time spent together.
So whether you are two or one hundred and two, this is the time of year to share and show how much your family and friends mean to you. Come on over to the Kingsbury Hotel.
There is something for everyone! For more information, please log www.thekingsburyhotel.com or The Kingsbury FB page or call 077 108 77 20. (MEDIA RELEASE)