March 7, 2016, 9:48p03
40 Views
Queen of Curry Spices it up at the Curry Leaf Restaurant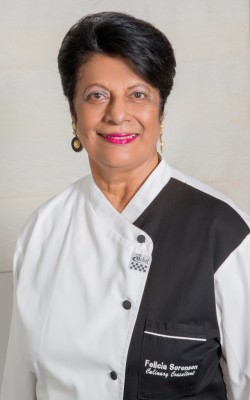 COLOMBO, Sri Lanka – March 7, 2016 –   Curry Queen also known as "Darling" will spice up the Hilton Colombo's authentic Sri Lankan restaurant; the Curry Leaf with her gorgeous flair in Sri Lankan cooking from 11th to 20th March during dinner.
From luscious crab, to designer hoppers with cheese & chilli, beetroot flavour with seeni sambol and egg, mutton roti and double egg roti along with a variety of yams and vegetarian options will be available during the promotion.
Fragrant creations of seafood, fresh crab, prawns and a variety of fish are made to your choice of taste.
Felicia Sorensen's skill and reputation gained her entree into the ranks of Les Disciples d' Auguste Escoffier in 1980, as well as being honored in 1992 as the first Asian Chef to officiate at the Robert Mondavi Winery's Great Chefs programme.
She is Asia's most renowned proponent of Sri Lankan cuisine. Her consulting for Asian, European and American hotels and restaurants have brought the taste of her islands cookery to a discerning clientele.
So take a culinary soiree into the mystics of Sri Lankan cuisine with "Darling" in the spacious Serendib setting at the Curry Leaf, Hilton Colombo.
For more details and for reservations, guests can call on 2544 644 ext 2012
or you may log into  www.hiltoncolombo1.com www.facebook.com/HiltonColombo,
or follow us on www.twitter.com/HiltonColombo, www.instagram/HiltonColombo.
(MEDIA RELEASE)