March 12, 2015, 9:48p03
No Comments
64 Views
On Thursday, 19 March 2015, all around the world, restaurants will offer more than 1300 dinners to celebrate France's gastronomy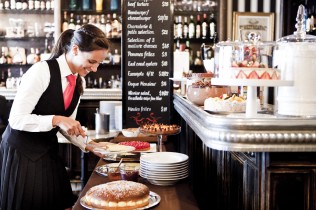 On Thursday, 19 March 2015, all around the world, restaurants will offer more than 1300 dinners to celebrate France's gastronomy by inviting the public to share a "French dinner". In each participating restaurant, the event will render homage to a vibrant, open and innovative cuisine, while remaining true to its values of sharing, pleasure, and respect for good food, and for the planet. This first Goût de France / Good France event has already proved successful, with more participants than anticipated.
The Goût de France / Good France initiative is being organised by Alain Ducasse and the Ministry of Foreign Affairs and International Development.
During the project's presentation, Laurent Fabius said: "France's heritage is its cuisine, its wines, (…). The gastronomic meal of the French has been on the UNESCO World Heritage list since 2010, but it is a heritage that should not simply be contemplated, glorified and savoured; it is a heritage that should be built upon and showcased."
In the words of Alain Ducasse: "French cuisine is the interpreter of a cuisine that has evolved towards lightness in harmony with its environment… The common point of this event is generosity, sharing and the love of what is beautiful and tastes good. It will be a delightful interlude and an opportunity to celebrate French cuisine worldwide."
Inspired by Auguste Escoffier, who launched the "Dîners d'Épicure"(Epicurean Dinners) initiative – the same menu, the same day, in several world cities and aimed at as many diners as possible – in 1912, Goût de France/Good France reproduces that beautiful idea with the desire to involve restaurants all around the world.
Each chef will offer a "French-style" menu in their restaurant with a traditional French aperitif , a cold starter, a hot starter, fish or shellfish, meat or poultry, a French cheese (or cheeseboard), a chocolate dessert, French wines and digestifs , while remaining free to highlight their own culinary traditions and cultures.
The cuisine will be accessible to all, from bistros through to exceptional restaurants, and based on fresh, seasonal and local products with lower levels of fat, sugar, salt and protein.
The menu's price is at the restaurant's discretion, and they are all encouraged to donate 5% of proceeds to a local NGO promoting health and the environment
(MEDIA RELEASE)