January 13, 2015, 9:48p01
No Comments
701 Views
Noritake Lanka crafts Holy Communion bowls for Papal visit to Sri Lanka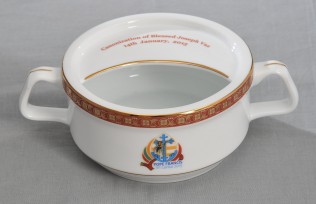 Colombo, Monday 12 January 2015. Noritake Lanka Porcelain Ltd (NLPL) has been bestowed with the unique honour of crafting the Holy Communion bowls for His Holiness Pope Francis' visit to Sri Lanka.
These brilliant white porcelain circular bowls measure 224.8 mm in diameter, 76.8 mm in height and weigh 682 grammes. They have been made from porcelain sourced 60% in Sri Lanka and 40% from imported materials and has the lettering 'Canonization of Blessed Joseph Vaz. 14 January 2015'. 24 karat gold, lead and cadmium free pigments have been used in the decoration of these bowls.
These bowls will play a significant role in the Holy Masses the Pontiff will hold during his three day visit to Sri Lanka. Of the total of 1300 bowls which have been manufactured, the Holy Pontiff will use one while the others will be used by the Catholic clergy when giving Holy Communion.
Deputy Chairman and Managing Director of Noritake Lanka Porcelain Pvt Ltd (NLPL) Yoshinari Shimaya said, "We're deeply honoured and humbled at having been chosen to manufacture these special Holy Communion Bowls. Several detailed and extensive discussions on the 'design review' were held between the Archdiocese of Colombo and our team in the past few months with regard to the artistic and technical specifications of the Holy Communion bowls. This final product has been well received and this is an endorsement of the high quality of work of our experienced and dedicated team".
Sri Lanka is the second Asian country to be visited by His Holiness Pope Francis and the first destination of this apostolic voyage to Asia. The Holy Father arrives in Sri Lanka on Tuesday 13 January for the cannonisation of the Blessed Joseph Vaz and leaves two days later.
A number of Cardinals, Bishops and Priests will participate in the Holy Mass at the Galle Face Green. About 1500 VIPs, about 500 sick and differently-abled persons will also participate in the Holy Mass. A large number of Bishops, Priests and people from Goa and India will also take part.
Ideally situated at the crossroads of Dharmapala Mw and Sir James Peries Mw (Pitthala Junction), Noritake's 10,000 sq ft flagship store is spread over three floors and enjoys prestigious visibility from its vantage location.
Noritake Lanka Porcelain Pvt Ltd currently sources 35% of its raw materials from Sri Lanka. Its factory at Matale is one of the largest production facilities in the world which produces high quality tableware under the brand Noritake. Among the locally sourced raw materials are Quartz from Galaha off Kandy, Felspar from Owala off Rattota, Dolomite from Digana off Kandy and Calcite from Balangoda.
Nearly 80% of Noritake's local production is exported to key markets in over a hundred countries including USA, UK, Japan, the Middle East, Australia, Canada, Germany, Mexico and Korea. The balance 20% is marketed locally through its outlets at the flagship store in Colombo 07, Kirulapona, Wattala, Matale, Pannala and the Bandaranaike Air Port. (MEDIA RELEASE)