March 23, 2015, 9:48p03
No Comments
769 Views
Noritake, first-ever porcelain company in Sri Lanka to launch 'Bridal Registry'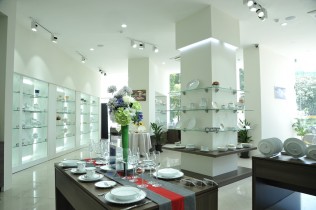 Colombo, Monday 23 March 2015. Noritake Lanka Porcelain Ltd (NLPL) recently launched its Bridal Registry and thus goes on record as being the first-ever porcelain company in Sri Lanka to do so.
Deputy Chairman and Managing Director of Noritake Lanka Porcelain Pvt Ltd (NLPL) Yoshinari Shimaya said, "The launch of this Bridal Registry is the result of continuous requests we have had from numerous customers over a long period of time. Very often bridal couples are flooded with gifts they might never use. This is sadly an absolute waste of both money and goodwill. This Bridal Registry, on the other hand, gives couples the chance to indicate specific items of their choice. At the same time it enables guests to be part of a meaningful and appreciated gift. So it does work both ways".
The history of the bridal registry goes back to the giving of gifts which is a long tradition in the history of marriage. In ancient times couples were showered with symbols of fidelity, fertility, and prosperity. Later on wedding gifts became items which helped the new couple establish their home. For nearly a century brides in America have been creating a bridal or wedding registry. The very first registry was created in 1924 in Chicago to enable an engaged couple choose their china, silver and crystal patterns. This idea eventually spread across the country and throughout the retail industry. Although very much a foreign concept, the Bridal Registry is relatively new to Sri Lanka and is fast catching on in Colombo.
"We have already had quite a number of couples in Sri Lanka creating their Bridal Registry with us. The concept seems to be fast catching since we have also had a few Sri Lankan couples living overseas and who plan to get married here choosing this option. This is also because we offer the added advantage of shipping the gift items back home to their residence overseas. This takes away the stress and hassle and lets the couple focus on their big day in peace", Shimaya added.
With its 43 year old history in this country, NLPL today enjoys iconic status as Sri Lanka's pioneer porcelain tableware manufacturing company and has catered to generations of satisfied customers both locally and in South East Asian region.
Ideally situated at the crossroads of Dharmapala Mw and Sir James Peries Mw (Pitthala Junction), its 10,000 sq ft flagship store is spread over three floors and services both the retail and wholesale markets with its extensive range of products. Nearly 80% of Noritake's local production is exported to key markets in over a hundred countries including USA, UK, Japan, the Middle East, Australia, Canada, Germany, Mexico and Korea. The balance 20% is marketed locally through its outlets at the flagship store in Colombo 07, Kirulapona, Wattala, Matale, Pannala and the Bandaranaike Air Port.