March 9, 2015, 9:48p03
No Comments
58 Views
Newly launched Browns Hospital Ragama bridges rural-urban healthcare needs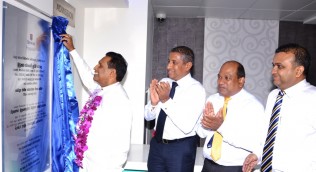 Ragama, Monday 09 February 2015. The Browns Group of Companies took Sri Lanka's healthcare sector to the next level with the formal launch of its fully-fledged, multi-speciality Browns Hospital in Ragama.
The 70 bed, multi-speciality General Hospital is equipped with the latest technology in medical diagnostics comprising modern CT and MRI scanning, and advanced medical and surgical therapeutic technology.
The ceremonial opening took place on Monday 09 February 2015 under the distinguished patronage of the Minister of Health Hon. Rajitha Senaratne.
Present on the occasion were Executive Chairman of the Browns Group Ishara Nanayakkara, the Board of Directors, Director/CEO of Browns Hospitals/Healthcare Dr. Sajeeva Narangoda, Senior Management, Consultants, Doctors and several others.
The newest venture of Brown & Company PLC, this multi-speciality Hospital will be the first in a chain of secondary care general hospitals and diagnostic centres which are dedicated to provide high quality care through comprehensive, integrated clinical practice and personalised care, to every patient.
Located at a vantage point on the Ragama Road and very near the Ragama Teaching Hospital and the Ragama Railway Station, it caters to Sri Lankans of all economic and social backgrounds. Firmly grounded in the strong heritage of the Browns Group, it opens its doors to both rural and urban citizens in Sri Lanka with a range of innovative and patient-centric solutions.
Browns Hospital Ragama has a high profile medical team of highly qualified and recognised visiting consultants in all specialties and in-house doctors as well as highly experienced nursing care. Qualified nurses from both the private and government sector strengthen the nursing care at Browns Hospital Ragama.
"We have formed the perfect bridge in marrying rural and urban citizens' healthcare needs, adding more value with innovative patient-centric healthcare solutions. This, we will achieve through integrated clinical practice with our caring health care professionals who, at all times, uphold high standards of care and assure patient safety, utilising the latest available technology" said Director / CEO of Browns Hospitals / Healthcare Dr. Sajeeva Narangoda.
Providing the best possible healthcare at affordable prices is one of the principal features as the Hospital reaches out to both the rural and urban masses. Another feature is the minimising of patient stays with the use of up-to-date and appropriate technology, patient care and standardised procedures which will also improve the turnover of patients. In addition to this, the establishment of high quality diagnostic centres, with easy access, in different parts of the country will support early diagnosis of various, non-communicable as well as communicable diseases and thus lead to early treatment.
CAPTION FOR PHOTO – Minister of Health Hon. Dr. Rajitha Senaratne ceremonially launches the Browns Hospital Ragama. Also in the picture are (L to R) Executive Chairman of Browns Group Ishara Nanayakkara, Additional Secretary Ministry of Health Dr. Amal Harsha de Silva and Director/CEO of Browns Hospitals/Healthcare Dr. Sajeeva Narangoda