March 9, 2015, 9:48p03
No Comments
85 Views
Lankem Paints ties up with American coatings giant Sherwin-Williams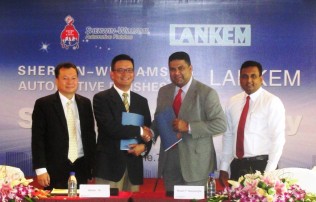 Colombo. Wednesday 04 March 2015. Lankem Paints Ltd recently tied up with USA's paints and coatings giant Sherwin-Williams to enhance its portfolio of automotive refinishes for the local market.
Sherwin-Williams is the biggest aerospace, architectural, chemical, industrial and marine coatings manufacturer of the world and is one of the world's top automotive paint companies. One of the leading giants in the USA, Sherwin-Williams was established in 1866 and is now present in more than over 100 countries across the world with an annual turnover of 8 Billion USD.
Lankem Paints Ltd, part of the well-diversified conglomerate Lankem Ceylon PLC, has serviced the Sri Lankan market with auto brands such as Sikkens and Lesonal for a long period of time and has won the trust and confidence in the industry.
"We're happy to team up with Sherwin-Williams and introduce the international super brand Ultra 7000 to the Sri Lankan automotive market. Quick drying, durable and cost effective, Ultra 7000 is OEM certified for all American, Japanese, European and even some Chinese vehicles, and, has all the colours required around the world. In fact, with this partnership our objective is to create a wow-effect on our customers while making profitability in the body shop business reach the peak", said Director Lankem Ceylon PLC Ruwan T. Weerasinghe.
Based on individual business models Lankem looks forward to upgrading Sri Lankan body shops with colour-mixing machines. It will also provide a thorough technical training to the staff, to create competent employees who are geared to deliver optimum results. Lankem goes a step further and will also support them with equipment maintenance support, thereby making the operation more cost effective in a bid to guarantee increased customer satisfaction levels.
Sherwin-Williams is one of the world's leading companies in the manufacture, distribution and sale of coatings and related products to professional, industrial, commercial and retail customers.
Sherwin-Williams Automotive Finishes, a division of the Sherwin-Williams, manufactures and distributes a complete line of advanced technology paint and coating systems for automotive and fleet refinishing industries.
Providing high performance interior and exterior coatings, along with associated products, the company now serves a variety of customers including collision repair facilities, dealerships, fleet owners and refinishers, production shops, auto body builders and original equipment manufacturers.
Caption for PHOTO – In the picture (L to R) are Pongsakorn Intarachumnum (Sales Director – South East Asia), Benson Qi (General Manager – Asia), Ruwan T. Weerasinghe (Director Lankem Ceylon PLC) and Daminda Siriwardana (Assistant General Manager Paints and IC)