April 29, 2015, 6:18 pm
No Comments
29 Views
Lankem launches Robbialac Painters Academy – Empowers painters with scientific skill for life.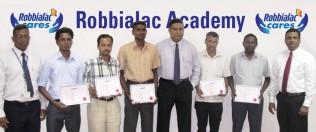 Colombo. Monday 27 April 2015. Lankem Paints Ltd, manufacturers and marketers of Robbialac Paints recently launched the Robbialac Painters Academy which will henceforth train Sri Lankan paint applicators and empower them with a scientific skill for life.
The first-ever of its kind in Sri Lanka, the Robbialac Academy is the latest CSR initiative of Lankem Paints and offers a professional course in painting completely free of charge for those who wish to learn how to do it right.
The first batch consisted of six young men from different areas such as Veyangoda, Kelaniya, Malabe, Kegalle, Hanwella and Piliyandala. They were selected from among hundreds of applications received from all parts of Sri Lanka and completed an interactive training spread over four intensive training weeks.
During this period, the participants were trained in the finer points of their trade. They were given a full brief regarding paints and coating systems, products and their usage. Added to this were preparing the surfaces, mixing the correct consistency, the right way to apply paint and even how to save paint in the process.
"Having been in Sri Lanka's paints industry for 30 successful and eventful years, we felt the time was now ripe to give back to the industry we operate in. Sri Lanka has vast talent and it is thus our wish to empower these young men and even women with a skill for life. With the current resurgence in economic activity and building construction taking place all over the country, there is dearth of well trained and qualified painters. The Robbialac Academy offers just that and is thus now open to all those who wish to learn the ABC of painting and become professional painters" said Director Lankem Ceylon PLC Ruwan T. Weerasinghe.
"Although I have been working as a painter for the past fifteen years, this training greatly enhanced my knowledge and is invaluable to painters such as myself. We learnt a lot of things we didn't know earlier such as the detailed finer points. This has given us great confidence and enhanced and sharpened our skills. Lankem even went beyond the training and provided us with lunch and refreshments during all sessions. I hope Lankem trains hundreds of more such painters and thus elevate this trade", said K. Chandima Jayaruk of Piliyandala.
"Once trained at the Robbialac Academy, these men and women will be both skilled and qualified in the scientific methods of painting. Lankem's wish is to see that they secure employment not only in Sri Lanka but overseas as well. This will also, in the long term, have a beneficial impact on Sri Lanka's economy as well, as in the case of other Sri Lankan expatriate workers. The Robbialac Academy will thus be an ongoing process and one that we will nurture for years to come", Weerasinghe added.
The Robbialac Academy invites applications from young Sri Lankans between the ages of 18 and 30 years for the next training session which takes place at the end of May 2015. They may write to – Robbialac Academy, c/o Lankem Paints, 297A 1/1 Union Place, Colombo 02 or call 0117766000.
Caption for PHOTO – In the photograph (L to R) are Head of Technical – Lankem Paints Limited – Sunil Fernando, M. A. Yasith Maduranga, Sunil Kurundawa, K. D. Chandima Jayaruk, Director Lankem Ceylon PLC Ruwan T. Weerasinghe, M. S. Rohanan Dissanayake, Tilak Jayasinghe and General Manager Lankem Paints Limited Daminda Siriwardena