January 14, 2015, 9:48p01
1 Comment
121 Views
Joseph Vaz: Indian Mistaken as Spy and Sri Lanka's First Saint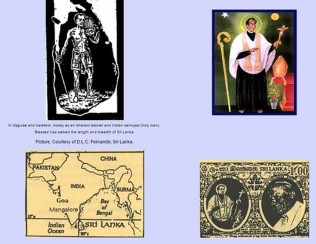 By Suryatapa Bhattacharya
Things didn't exactly go to plan when Joseph Vaz, who is expected to become Sri Lanka's first saint on Wednesday, arrived in the island nation to propagate Catholicism in the 17th century.
A year after he set off from his home town in Goa in the west of India, Vaz entered the northernmost tip of Sri Lanka disguised as a porter.
Mistaken for a Portuguese spy by the Dutch, he was imprisoned in 1691 and sent to the central province of Kandy. He was released two years later by the Buddhist King Vimaladharna Surya II after he is believed to have performed a miracle through prayer, bringing about rain to end a drought.
Vaz is credited with the revival of Catholicism in Sri Lanka and will be canonized by Pope Francis during the three-day papal visit to the island nation.
Today, Catholics make up 7% of the population in Sri Lanka.
Celebrations in Goa will start early Wednesday morning to mark his passage into sainthood, 20 years after Pope John Paul II declared him blessed – a step along the way to being declared a saint– in a ceremony in Colombo.
"We have waited for this day for a long time. It is a joyous occasion for all of us," said Aleixo Menezes, rector at the Rachol Seminary located in Rachol, Goa, a training college for priests serving in the Goa and Daman regions of India.
Special masses will mark the occasion across Goa. Church bells will peal Wednesday morning at 9 a.m. after prayer services conclude in Sri Lanka to usher Vaz into sainthood, according Mr. Menezes.
The Indian postal services in Sancoale will issue a commemorative postage stamp honoring the canonization, said Mr. Menezes.
Following the canonization, Vaz's honorific will be changed from Blessed to Saint.
The Sanctuary of the Blessed Joseph Vaz, a pilgrimage center located in Sancoale will also change its name to reflect the sainthood.
"The Goans and Sri Lankans have long considered him a saint because of his holiness of life, for taking a risk for Jesus Christ to serve the people. This was his greatness," said Mr. Menezes. "He is known as the son of Goa and the apostle of Sri Lanka."
Vaz, who was born in the seaside town of Benaulim in southern Goa in 1651 when it was under Portuguese rule, left for Sri Lanka in 1686 to help propagate Catholicism in the island state when it was ruled by the Dutch and Calvinism, a major Protestant branch, was taking root.
"He adapted himself to the local culture, learning Sinhalese and Tamil," said Mr. Menezes, who holds a doctorate in systematic theology. Vaz is believed to have composed hymns in both languages.
Vaz lived and worked in Kandy until his death on Jan. 16, 1711.
Although he was buried in Kandy, neither his remains nor a grave has ever been found, according to Mr. Menezes.
For breaking news, features and analysis from India, click here and follow WSJ India on Facebook
The WSJ is now on LINE. Scan to follow or click "Add Friends" from your mobile device to add our official account.
SOURCE – http://blogs.wsj.com/indiarealtime/2015/01/14/joseph-vaz-indian-mistaken-as-spy-and-sri-lankas-first-saint/