March 23, 2015, 10:48 am
No Comments
544 Views
'Info-V 2015', ICT expo unveils for second consecutive year. Powered by Sri Lanka Telecom and presented by Visakha Vidyalaya.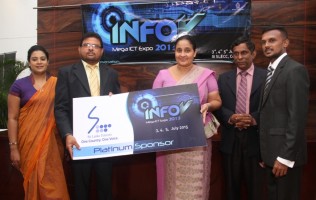 'Info-V 2015', ICT expo unveils
for second consecutive year

Powered by Sri Lanka Telecom and presented by Visakha Vidyalaya.
Colombo. Thursday 19 March 2015. The Organising Committee of 'Info-V' in collaboration with Visakha Vidyalaya, and with the support of the Ministry of Education, presents the second annual 'Info-V 2015' ICT exhibition on 03, 04 and 05 July at the Sri Lanka Exhibition and Convention Centre (SLECC) in Colombo.
Themed 'Smart Destinations – a Knowledge Hub that brings to you the latest in technological advancements and innovations", the expo has Sri Lanka Telecom coming on board as Platinum Sponsor for the second consecutive year.
Open to the public from 9am to 8pm on all days, the exhibition aims to bring IT closer to young adults and students, and, make it an accessible tool in their day-to-day lives.
"As the pioneer organisation in Sri Lanka which takes technology to the rural masses and plays a major role in putting Sri Lanka on the global network, Sri Lanka Telecom recognises the importance of this exhibition in showcasing the advancement of technology for the benefit of mainly the student community. Our decision to come on board as Principal Sponsor is clearly in support of Info-V 2015 as a much-needed solution to fill the vacuum in Sri Lanka's ICT arena today", said Mr. M. B. P. Fernandez, Chief Network Officer of Sri Lanka Telecom, the Platinum Sponsor.
Several corporates and leading ICT companies will take part in 'Info-V 2015' which is expected to attract more than 15,000 visitors on a daily basis. The stalls will not only include contributions from local industries but also foreign organisations which have already shown an interest in taking part.
Speaking at a media conference in Colombo, Principal of Visakha Vidyalaya Mrs. Sandamali Aviruppola said that the primary objective of the exhibition is to enhance the usage of ICT on a broader perspective among young adults and school children for effective learning and development. "Until now, ICT in Sri Lanka has predominantly been a male domain. We wish to change this radically and include as many women as possible to balance the inequality. Our final goal is to equip them with IT knowledge to lead a smarter lifestyle. We also wish to support the national policy of achieving 75% ICT literacy by 2016. Added to this is the creation of awareness among the general public, of the developments in technology and their applications in day-to-day life, opportunities for business and for employment in the ICT industry".
Given its tremendous success last year, 'Info-V 2015' has grown to be a larger and more encompassing event this year. The organisers have elevated it from a school event and made it a national event. 'Info-V' showcases the development and availability of IT systems in the country and promotes both urban and rural schools to venture into the field of IT. It seeks to empower tomorrow's citizens with the latest methods of communication and search knowledge that connect them to the global village.
"ICT has been the driving force of Sri Lanka's economic development for more than a decade. It is therefore one of the key skills that need to be made available to all students in the context of current globalisation. It is critical that every Sri Lankan has access to an up-to-date information network with a sound knowledge of ICT in order to achieve both personal and collective goals", affirmed the Project Chairman of the Organising Committee Maduranga Perera.
Caption for PHOTO – Chief Network Officer of Sri Lanka Telecom, the Platinum Sponsor. M. B. P. Fernandez symbolically hands over the sponsorship cheque to Principal of Visakha Vidyalaya Mrs. Sandamali Aviruppola. Also in the picture are (L to R) Teacher in Charge of the ICT Society, Visakha Vidyalaya Mrs. Dilusha Somachandra, Director Education Development, Ministry of Education P.N. Illapperuma and Project Chairman Info-V 2015 Maduranga Perera