April 29, 2015, 9:48p04
No Comments
30 Views
'Indian Trade Fair 2015' unveils on 07 May in Colombo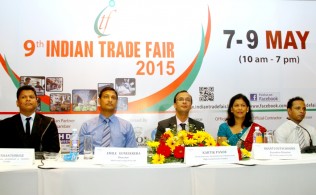 Colombo. Thursday 23 April 2015. Bringing into focus the diverse trade opportunities that exist between India and Sri Lanka, the ninth Indian Trade Fair will open on Thursday 07 May 2015 at the Sri Lanka Exhibition and Convention Centre, Colombo.
Organised by MP Events Lanka and partnered by PHD Chamber of Commerce and Industry, India, it will continue until Saturday 09 May with nearly 80 Indian exhibitors showcasing their products and looking to establishing partnerships with Sri Lankan entrepreneurs. The Indian Trade Fair 2015 has been described as the biggest meeting place for buyers and sellers of Indian products and services and is the ideal B2B platform for Indians to explore the Sri Lankan market.
"To Indian businessmen in particular, this is an ideal opportunity to showcase their wide range of products and services thus opening new avenues of trade in Sri Lanka. It will also facilitate their interaction with agents, dealers, distributors, manufacturers, exporters, entrepreneurs, Chambers of Commerce, Association members and direct marketing companies. We are indeed glad to encourage bilateral trade through our membership", said Saurabh Sanyal, Secretary General of the PHD Chamber of Commerce and Industry, India,
The main objective of the Indian Trade Fair 2015 is to develop trade relations between both nations and to promote opportunities in Sri Lanka for Indian industries and industrialists. It will also help exhibitors to generate business through displays / direct interactions and will enhance the synergistic effect to attract top level professionals from the industry, thus improving technology, focus and visitors.
"Providing a platform for Sri Lankan and Indian businessmen and industry professionals to meet and establish trade links has been the objective of this event. The Indian element has always been a vital element in the Sri Lankan market. The 9th Indian Trade Fair 2015 will thus provide huge opportunities to fill in the many gaps in this market", said Emile Gunesekera, Director of MP Events Lanka.
This year we will see exhibitors representing an expansive profile which includes Construction and Infrastructure, Turbines, Water Purification and Filtration Systems, Fire Extinguishers and Safety Products, Agriculture and Farming Equipment, Industrial Boilers, Laboratory Instruments, Medical Equipment, Pollution Control Equipment, Robotic Cloth Washing Systems, Filter Press and Plates, Wires and Cables, Vehicle Meters and Tracking devices, Transformers, Rubber Products, Solar Power Products, Consumer Electronics, Kitchen Appliances, Confectionery, Food Supplements, Dairy Products, Spices, Books and Online Publications, Laboratory and Education Trainer Kits, Leather Products etc, he added.
Indian Trade Fair 2015 will mainly focus on businessmen from medium to large scale enterprises with a view to establishing trade relationships with potential industrialists from India
To mark this occasion, the Federation of Chambers of Commerce in Sri Lanka together with MP Events Lanka (Pvt) Ltd have organised the 3rd Indo-Ceylon Economic Dialogue (ICE 3) to mark the 9th Indian Trade Fair. This forum will be held on the 08th May 2015 at 10.30 am at SLECC. Its main purpose is to open doors for local business partners to seek their potential Indian business partners. Several sessions at this forum are expected to expand key areas of business strategies while reputed speakers attached to different Ministries and institutions join to enrich the experience.
FCCISL is the rallying point for free enterprises in Sri Lanka. It has empowered Sri Lankan businesses, in changing times, to sharpen their competitiveness and thus enhanced their national and global reach. With a nationwide membership of over 50 chambers of commerce and business associations, FCCISL espouses the shared vision of Sri Lankan businesses and speaks directly and indirectly to over 12,500 business units. It has an expanding membership of enterprises drawn from large, medium, small and tiny segments of manufacturing, distributive trade and services. Set up in 1973, FCCISL is the largest and most representative apex business organisation of Sri Lankan business.
Sri Lanka goes on record as being the only country with Free Trade Agreements with both India and Pakistan, giving duty free access to over 1.3 billion consumers. The Indo – Sri Lanka Free Trade Agreement which was signed on 28 December 1998 and came into effect on 01 March 2000, aims at promoting economic linkages between India and Sri Lanka through the enhancement of bilateral trade and investment.
About PHD Chamber of Commerce and Industry, India: Established in 1905, PHD (Progress Harmony Development) Chamber of Commerce & Industry is a proactive and dynamic multi-state apex organisation working at grass-roots level, with strong national and international linkages. The Chamber acts as a catalyst in the promotion of industry, trade and entrepreneurship. PHD Chamber, through its research-based policy advocacy role, positively impacts the economic growth and development of the nation. PHD Chamber is more than an organisation of the business community, as it lives by the chosen motto 'Skilling India for Global Competitiveness' and contributes significantly to socio-economic development and capacity building in several fields.
About MP Events Lanka (Pvt) Ltd: MP Events Lanka (Pvt) Ltd is an accredited Professional Exhibition Organiser incorporated in Sri Lanka under the Board of Investment approval and an active member of MICE promotion spearheaded by Sri Lanka Convention Bureau. MP Events Lanka (Pvt) Ltd was the pioneer in introducing Indian Trade Fairs to the country way back in 1999 with the support of the Indian High Commission and relevant Ministries and Associations both in Sri Lanka and India. The successive exhibitions held upto now have recorded a high level of participation from all over India contributing to the establishment of a large number of business links between the two countries.
Caption for PHOTO : At the head table (L to R) are J. B. Thanthirige (Assistant Manager, Membership and Training, FCCISL), Emile Gunesekera (Director, MP Events Lanka (Pvt) Ltd), Karthik Pande (First Secretary, Economic & Commercial, High Commission of India, Shanti Outschoon (Executive Director, MP Events Lanka (Pvt) Ltd) and Lahiru Abeygunawardena (Sales Manager, Trade Exhibitions, MP Events Lanka Pvt Ltd)