January 21, 2015, 5:21 am
No Comments
172 Views
"I should have known … how much benefits a Kala Pola could bring to artists" – George Keyt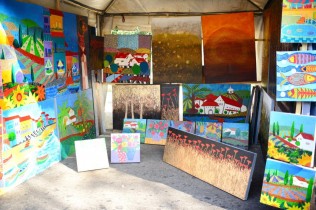 By Nihal Rodrigo, Deputy Chairman, George Keyt Foundation and former Sri Lanka Foreign Secretary
George Keyt, is no doubt, the greatest Sri Lankan artist of the 20th century. Born in 1901, in Ampitya, near Kandy, he passed away in 1993. It was also the year that he viewed the inaugural Kala Pola that had been organised.
The idea of a Kala Pola (Art Mart) in Sri Lanka, a la street art exhibitions in France (e.g in Montmartre), was projected and promoted by the late Professor S. B. Dissanayake, a friend and very strong admirer of Keyt's work.
He was of major assistance in helping to conceptualise the idea of a Kala Pola to function effectively in Sri Lanka. Initially, Keyt himself was cynical and not convinced about the benefits that Street Art would bring to Sri Lanka.
However, when he was driven around the first Kala Pola in 1993, he had been thrilled and had happily exclaimed to Cedric de Silva, Chairman of the Board of Trustees in the George Keyt Foundation and his wife, Sita : "Oh! I should have known … how much benefits a Kala Pola could bring to artists".
George Keyt and I are both products of Trinity College in Kandy – though of course, as students, decades apart. Keyt's first wife, Ruth and my mother were close friends. Ruth was also my teacher in the Primary School at Trinity. We met often. Keyt himself was born a Christian, later converting to Buddhism when he came to live with his second wife, Manike in Sirimalwatte. The magnificent murals he painted at the Gotami Vihare in Borella on the life of the Buddha bear witness to his deep knowledge and devotion to Buddhism.
The first Kala Pola was preceded by an earlier exhibition, 1991, of Keyt's other paintings (the erotic ones as well) held at the Lionel Wendt Gallery in Colombo, with support from the John Keels Group, celebrating Keyt's 90th Birthday. The Exhibition was inaugurated by the then President of Sri Lanka, Ranasinghe Premadasa.
In an introduction in the catalogue of the exhibition, I touched briefly on the then political situation in the island. I wrote that "culture can be a powerful manifestation of a national ethos, however disjointed the times, fractured the society", but that creative individuals like Ediriweera Sarachchandra, Chitrasena, Amaradeva, Lester James Peiris and George Keyt, all masters in their varied cultural expressions, represent "an enduring triumph for Sri Lanka and people who value creative expression without abrasive hostility".
Since then, Kala Pola has been developed and enhanced as a regular Sri Lankan cultural event. Increasing numbers of painters, as well as sculptors, have now an opportunity of displaying their creative talents and aspects of opinion to the public, while securing markets for their work.
The Kala Pola has been also a major, practical, well-organised, efficiently conducted example of Corporate Social Responsibility (CSR) by John Keels which has benefited many artists. Some of them may even live exclusively on what they earn from the sale of their paintings.
Corporate sectors also benefit by being able to identify creative talents which can be helpful assets in public relations, advertising and publicity for their products.
The annual Kala Pola has also had international cultural impact. It has often been happily, even proudly, opened by foreign Ambassadors and High Commissioners based in Colombo. They have included US Ambassador Robert Blake, British High Commissioner John Rankin, Indian High Commissioner Ashok Kanth and French Ambassador Christine Robichon to name a few.
Free of charge and open to the public, Kala Pola 2015 takes place on Sunday 25 January 2015 along Nelum Pokuna Mawatha in Colombo. Presented by The George Keyt Foundation in association with the John Keells Group, it opens at 8.00 am and will continue until 9 pm the same night.