February 9, 2016, 9:48p02
578 Views
I could be your Prince and You could be my Princess … A Valentine's Day spent at Mount Lavinia Hotel could be your fairy tale come true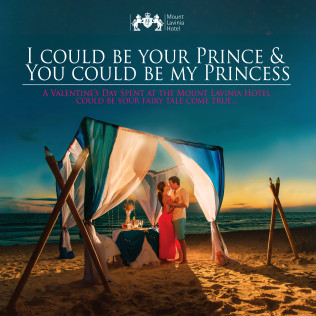 The Mansion of Love, Mount Lavinia Hotel invites all Princes and Princesses for a fairy tale Valentine's Day. The hotel, steeped in the legacy of romance invites lovers to experience the Hot Hut Love, the Enchanted Tree House, the Train to your Heart, Valentines in Bed and our own Ape Adaraya.
Hot Hut Love, the Love Huts on Paradise Beach are back this year and is one of the most looked forward to Valentine dates. Offering a romantic setting on the Paradise Beach, with the soft golden sand to sink your feet in, and the expanse of the Indian Ocean to feast your eyes on, the Love Hut serves you a special four course menu for Rs. 9,500/- nett per couple.
For the one couple who is in search of a rustic and tropical Valentine experience, the Enchanted Tree House is up for grabs. Set away from the flurry of events of the night it is a perfect venue for an undisturbed evening with a personal butler to serve you.  "Transform your Valentine date into an evening of magic and romance, in your own little corner in the beachfront kingdom. The Tree House is open for auction on Mount Lavinia Hotel's Facebook page, and bidding starts from Rs. 15,000/- nett for a couple. All you need to do is inbox your name, bid, contact number and email address, along with a beautiful photograph of you and your loved one. The latest bids will be posted on the page, and you only have to keep checking," explained Bazeer Cassim, Group General Manager of Mount Lavinia Hotel.
Mount Lavinia Hotel is renowned for the unique experiences that are created. The novel event for this Valentine's Day is the Train to your Heart, the love themed carriage specially designed for the day. Set up to face the magical Indian Ocean, the train is open for two couples only. This exclusive dining experience is probably one of the most uniquely romantic dinner dates you could bring your loved one to, with personal butlers on attendance, and a delicious menu on offer. This venue too is open for bidding on the hotel's Facebook page as availability is limited, unlike your love.
For the classic Valentine, the Governor's Restaurant offers Ape Adaraya, the signature Sri Lankan Themed night, Ape Kema accompanied by Ape Sindu to enliven the night. For just Rs. 2600/- nett per person. One person will dine free for all the couples who come in saree/osari and sarong.
For those who wish to start the celebrations early, Valentine's in Bed, the special weekend offer allows a night at Mount Lavinia Hotel. Check-in on the 13th on this special promotion and enjoy a scrumptious Seafood Dinner, Breakfast in Bed and the famous Sunday Brunch.
Treat your beloved as they truly deserve, bring them to the Mount for a Valentine fit for royalty and fall in love all over again…
For more information and reservations call 0112 711 711 Ext. 430/446 or visit https://www.facebook.com/mountlaviniahotel/
With over 200 years of history, Mount Lavinia Hotel is a British Colonial themed beach-front resort in the city. With a selection of 210 rooms with idyllic views of the ocean, thematic dining experiences, dream weddings, enthralling entertainment and impeccable service together with a legacy of heritage, we offer the best of Sri Lankan hospitality. MLH is a subsidiary of Mount Lavinia Hotel Group, which includes Club Bentota, Aluthagama & Vakarufalhi Island Resort in the Maldives.
 Visit www.mountlaviniahotelgroup.com
 For more information call Tinaz Amit, Manager – Corporate Communications & Public Relations
0112 711 711 Ext 1327  /  0777 563437
Tinaz.a@mountlaviniahotel.com