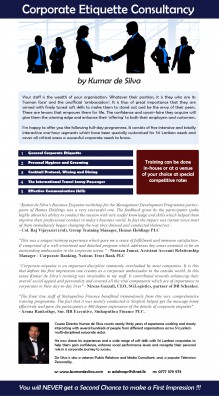 The wealth of any organisation, however big or small is its staff. By virtue of their different positions within the organisation, they are the persons who finally represent the organisation and constitute its 'human face'. They are thus without doubt, the de-facto 'ambassadors' of your organisation.
Corporate employees are constantly being challenged by the rapidly changing needs of the business environments they function in. It is thus of critical importance that the staff of every organisation is endowed with finely tuned soft skills to enable them stand out tall and be the envy of their peers.
These are lessons that will empower them for life. The confidence and savoir-faire they acquire will give them the winning edge and enhance their 'offering' to both their employers and customers.
I'm happy to offer your organisation the following full-day programme. It constitutes 05 intensive and interactive one-hour segments which have been specially customised for Sri Lankan needs and cover all critical areas a successful corporate needs to know.
Inquire – email : adahaspr@sltnet.lk . mobile : 0777 379 973
You will NEVER get a Second Chance to make a First Impression !!!