February 29, 2016, 9:48p02
56 Views
CJS articulates the timeless passions of LOVE.OBSESSION.ROMANCE at CFW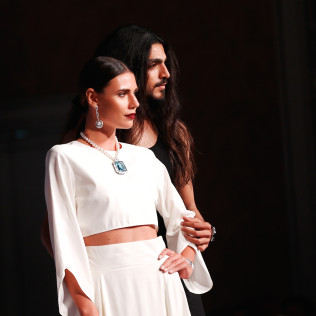 Passions are bold yet secretive; they are fascinating emotions that delve deep into the heart and yet have an enigmatic sense of constant discovery for love to thrive, romance to grow and obsession to simply take over. In its newest collection unveiled at Colombo Fashion Week Spring/Summer 2017, Colombo Jewellery Stores garnered those timeless passions into a fascinating collection of jewellery that harnessed the mysteries of love, obsession and romance.
Conceptualised to depict the timelessness of these emotions within a sepia toned campaign, the Love.Obsession.Romance Collection began its walk on the runway showing the CJS Brand Ambassadors Jacqueline Fernandez and New York model Adam Flamer Caldera uniting for the first time to unveil a CJS collection, igniting the screen with smouldering undercurrents that perfectly denote the fervour exuding from this Collection.
With male models wearing legendary Hublot timepieces with great pizzazz, the female models brought forth absolute glamour into this  Love.Obsession.Romance Collection.  The glamour of diamonds, bold golds, sparkling silvers, alluring sapphires, sizzling rubies, fascinating amethysts, bewitching citrines and beguiling emeralds were quite stunning, elaborating the totality of emotions that love has elicited in human beings for centuries.  There is a perfect blend of the classic with a subtle hint of the contemporary that makes this collection transcend any era.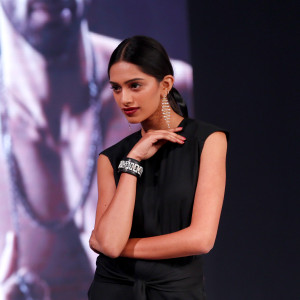 There was a sense of unbridled joy of first love and a vivacity that emerged from the dazzling diamonds that formed the perfect canvas for the radiance of the multi-hued palette used by CJS in the range of fascinating earrings, bracelets, rings and necklaces, with some of the latter artfully placed as headdresses to showcase its unreserved beauty. The bold cuffs, highly contemporary yet possessing an elegance that explores the mysteries of obsession are softened with multi-hued stones as were the avant-garde square bangles with its touch of the esoteric.
Emeralds and blue sapphires formed the ideal centerpiece for the intensity of romance, centered as they were with everlasting beauty of surrounding diamonds in a series of necklaces and rings. These articulated the ardour that is symptomatic of true love as did the immortality of the showstopper, wherein classic South Sea Pearls intertwining aquamarines in necklaces and bracelets, founded the abiding eternality of this cycle of passion.
Having collaborated with CFW for eleven years, CJS Chairman Akram Cassim who has each year unveiled a fascinating collection on the ramp, believes strongly that jewellery is an extension of a person's emotions.  "Through centuries, jewellery has always been symbolic of love, romance and yes, obsession.  It is always jewellery that plays the key role in matters of the heart and by unveiling the Love.Obesession.Romance Collection, we are simply articulating those age old emotions that transcend generations, yet hold a sense of fascination and discovery through modern times."
This surely holds true as each ultra elegant piece walked the CFW runway, ageless in design but contemporary in elegance where sprays of gold with dustings of diamonds, entire works of art resplendent in blues, reds, purples and greens showed off the strength of colour on landscapes of gold and silver and that symbol of love, the diamond, crowning each masterpiece with its resplendence.  Truly obsessive! (MEDIA RELEASE)