November 19, 2015, 9:48p11
1070 Views
Cinnamon Red – unveils a New Era of Urban Creativity with Red Rave Art Walk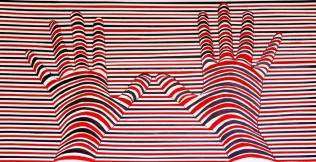 Colombo 17 November 2015, Colombo: It wasn't the legendary Banksy that carved a place for street art and urban creativity – while his emergence created a new breed of defiant graffiti artists across the world, this modern, outdoor discipline can be traced back to the gangs of New York in the 20's and 30's, using outdoor spaces to express their territorial instincts via a paint brush instead of a gun. Later on, by the end of the 20th century and the beginning of the 21st, street art evolved into a complex interdisciplinary form of expression – combining graffiti, stencil, print and mural – through large scale pieces and collaborative projects.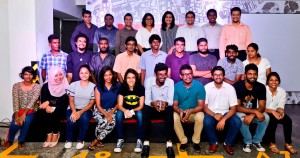 It is safe to say that street art has found its way into the core of contemporary art – and Sri Lanka, with its many creative minds, is not one to be left behind. Our post-war boom hasn't necessarily only been an economic one, our aesthetic boom has brought about a new breed of artists that we must stand up and pay attention to. No longer are our streets filled with hurriedly spray painted words – instead, modern expressionists have emerged, creating Sri Lanka's own defiant species of urban artist and finally putting the island on the map as a centre for daring aesthetic, beyond the walls of an elitist gallery.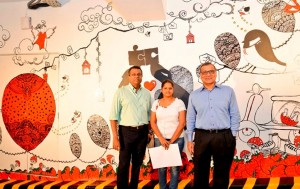 Cinnamon Red has been proud to be a part of this all-new uprising since the hotel's inception last year,; opening their doors and providing a platform for expression and permanent exhibition for some of the most dynamic young stars of the island's creative epicentre. Now for the second consecutive year, Red adds to what they first began last year, brightening up their five level carpark with more art and the stories of more Sri Lankan artists on their walls. This engagement between corporate and creative for the second consecutive year becomes a potential blueprint for how more business entities and creative professionals should engage with each other in a non-commercial manner that benefits both parties and the general public at large. It is also an assurance that Cinnamon Red is very much a Colombo landmark and the premier location for experiencing the best of urban art & culture.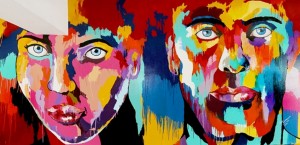 As Cinnamon Red's first anniversary approached on the 1st of September, an art and design competition titled 'Red Rave' was launched on the 3rd of August via the hotel's Facebook page, encouraging more artists to submit proposals and sketches for potential work to be added to the currently colourful car park featuring eight pieces from last year's competition. A staggering 61 entries left the selection committee (John Keells Holdings
Deputy Chairman Ajit Gunawardena, Cinnamon Hotels & Resorts Sector Head- City Hotels Rohan Karr, Cinnamon Red General Manager Terrence Fernando, and Cinnamon Hotels & Resorts Head of Marketing Communications – City Hotels Tharika Goonathilake) with the tough task of narrowing down the entries to five winners who would receive a Rs. 20,000 cash prize, art supplies and a full board stay at the hotel, and an opportunity to use the hotel's wall spaces as their canvas.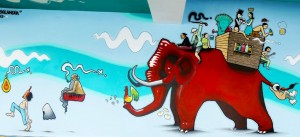 The submissions were truly overwhelming in terms of talent and creativity, and as a result, the team decided on 10 winners instead of the five they were originally meant to select.
This second installation of the project is only the beginning as Cinnamon Red plans to continue inviting artists to decorate their interiors with alternate expression. The platform created also helps these artists be commissioned for more work.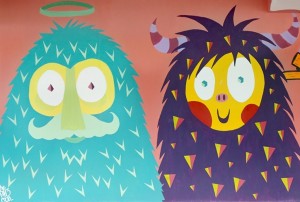 Cinnamon Red General Manager Terrence Fernando commented, "Cinnamon Red has brought a new dimension to the tourism industry in Sri Lanka and we hope that our trendsetting approach to cater to the new-aged traveller will also be reflected in the way we create and craft new experiences through the form of art; and not just through innovative design, products and services. We place high importance in bringing local talent to the spotlight and help upcoming artists continue their journey to rise in prominence. By providing these artists Red's vibrant spaces to develop their creative expressions, we hope we have done just that."
This year's winners include three artist collectives including Doodle Dumps, The Hermits and P413, the latter being featured the previous year with two pieces as well. Individual artists include Yogya Thalagala, Kavindu Abeysundera, Supun 'Zetter' Ravisanka, Lishni Tilakaratne, Stefan Pakinathan, Udani Samaraweera and Samithira Sriranganathan Sami all the way from Jaffna.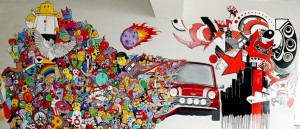 Their respective pieces will add to the current collection of work at the Cinnamon Red car park turning the space into a must-see art walk when in Colombo. Together, the pieces tell the story of the country's emerging creativity and alternate urban expression. The artists selected are at the very top of their game; one of the artists from last year, Ruwangi Amarasinghe has since gone on to exhibit in London and create a piece in Berlin earlier this year as well.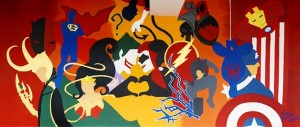 Yogya Thalagala, whose piece will begin the narrative journey of art is a school teacher by day and encourages young minds to keep expressing themselves creatively. Her piece for Cinnamon Red "depicts giant, open hands with a 3D feel, using red, black and white to bring out Cinnamon Red's vibrant brand identity. While I have created many pieces on canvas and cloth before, this will be my first major piece of work – something I am very excited to be creating for the hotel", she tells us. Yogya and the other nine winners are the newest hallmarks of Cinnamon Red's continuing trend to engage with cutting edge urban creativity that makes their car park as exciting a space as anywhere else of the vibrant hotel.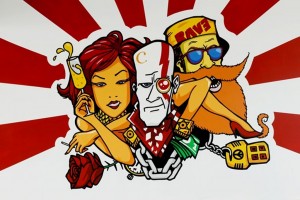 continued support and engagement with talented local artists is slowly but surely making a bold statement on the other elements that combine to make Colombo a developed and modern city. While construction is one part of development, creativity is how a city comes to life. The lesson here is simple; creative professionals and artists have a lot to contribute to the development process, because rich aesthetic and humanities are the real hallmarks of development. Cinnamon Red's continued engagement with artists in Sri Lanka then must become a lesson on how we work together and build a better city for everyone.
Today, with the unveiling of the second phase of Cinnamon Red's urban art, the hotel also launches the 'Red Rave Art Walk' to the public – a gallery of aesthetic creativity of the aspiring young generation of Sri Lanka.
For more information on Cinnamon Red, please visit www.cinnamonredcolombo.com
 To stay up-to-date on the latest happenings of the hotel, follow them on Facebook (facebook.com/CinnamonRedColombo), Twitter (twitter.com/CinnamonRedC) or on Instagram (cinnamonredcmb)