February 10, 2016, 9:48p02
282 Views
Celebrate your Valentine's weekend with The Kingsbury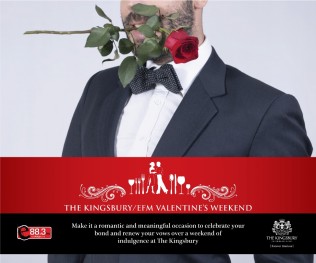 As friends and lovers prepare to celebrate this universal day of love, The Kingsbury will be setting the mood for renewed romance. Starting from Valentine's eve on Saturday, and throughout Valentine 's Day the hotel has planned a weekend of red roses, champagne and unforgettable memories just for you.
Just taking the time out to celebrate your bond and dedicating a day for a little romance over a dinner can be the one of the strongest ways to show how your love has grown and strengthened over the years.  This can give your relationship a boost and a chance for you to show how much you appreciate each other and that those original bonds have not been forgotten and in fact have deepened.  These occasions are often very rich in intimacy, caring, emotion and a means to demonstrate devotion.
As humans, we tend to get caught up in our daily lives and don't create the opportunities (as much as we would like to) to show how special our partner is to us.  This is the perfect opportunity to re-connect, re-commit and share this special time with each other to bring more joy, more attention and more love to the partner we care so much about.
11th to 14th February – A perfect Valentine's celebration can be carefully planned or completely spontaneous. Regardless of whichever way The Kingsbury is your one stop shop for that perfect valentine's gift. Drop by at our flower shop and let us prepare the perfect bouquet for your loved one then pick up some exquisite handmade chocolates from The Gourmet Station to spoil your loved one.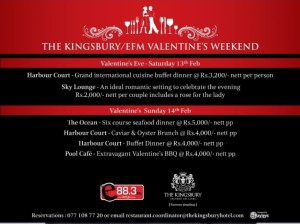 February 13th – Valentine's Eve Dinner: Set the mood for Valentine's Day with a pre-V-day dinner. Bring your friend, lover, spouse or special someone and share in the indulgence of a grand buffet dinner of international cuisine at Harbour Court. A romantic setting, overlooking the Indian Ocean, will set the perfect mood for this special occasion. A complimentary glass of champagne is on us! Price: Rs.3,200/-nett per person.
Valentines Eve at Sky Lounge: Take your love to dizzying heights overlooking the beautiful city skyline and the vast Indian Ocean. Our Sky Lounge is an ideal romantic setting to raise a toast to your loved one. Then share a special dance together or shake a leg to some contemporary dance music. Let us surprise your partner with a fresh red rose! Price: Rs. 2,000/- nett per couple
February 14th: Valentine's Day – This is the universal day of love. This is the day to show and share your love with the one person you care most about. The Kingsbury will be making promises happen and all you need to do is show up…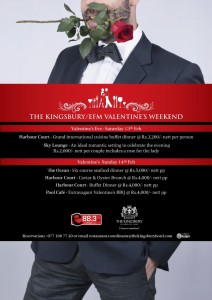 Harbour Court: Caviar & Oyster! That is what we call classy cuisine! Come over and indulge in an one-of-a-kind Sunday Brunch that starts at 11.30 am and goes on until 3 pm. That's almost a whole day spent enjoying mouth-watering treats with the one you love. The complimentary glass of sparkling wine is on us! Price: Rs.4,000/- nett per person
The Ocean Seafood Restaurant: If you love seafood, then this is the perfect place to enjoy a delicious six-course seafood dinner. So whether you want it grilled, fried, boiled, baked or basted, no one does seafood like we do. Bring your special someone along and let us pamper both of you. We will surprise the lady with complimentary chocolates and a red rose! Price: Rs.5,000/- nett per person
The Harbour Court: As night falls, this awesome location is dressed up for a Gala Buffet Dinner with an amazing culinary fare. All you have to do is make your reservation and bring the 'love of your life' along. We will spoil you with a complimentary glass of sparkling wine and a rose for the lady! Price: Rs.4,000/- nett per person
Pool Café: Imagine sitting outside, by the poolside, under the stars, at a candlelit BBQ dinner with the one person who means the world to you! The complimentary glass of beer will add to the music that will set the mood for love and romance. Price: Rs.4,000/- nett per person
The Kingsbury will lighting up the night to make this valentines weekend day truly memorable and forever timeless. Early reservations are highly recommended. Call 0771087720 for more info.