February 2, 2015, 9:48p02
No Comments
366 Views
The Cantando Cello Ensemble presents 'Baroque in Rhythm'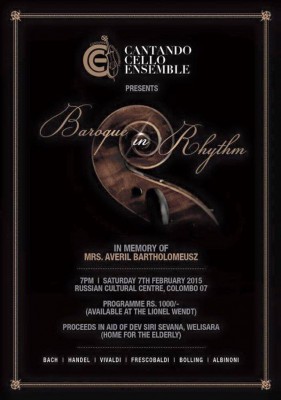 The Cantando Cello Ensemble was named for the singing sound that is so particularly associated with that instrument, and has been performing together for ten years now. This year, on the 7th of February, the Ensemble, directed by Dushy Perera, will perform a programme of Baroque music in memory of Mrs. Averil Bartholomeusz.
Averil Bartholomeusz was for decades the only cello teacher in Sri Lanka. She was the first teacher of Dushy Perera—the director of the ensemble, and Tamara Holsinger, who in turn have been teaching the instrument for many years. This year marks the 100th anniversary of her birth, and it seems fitting to celebrate her memory with a concert of music she loved, in the voice of the instrument she taught.
The cellists of the Ensemble are also members of the Symphony Orchestra of Sri Lanka, and are led and directed by Dushy Perera—now an associate conductor of the SOSL. Through the ten years of its existence, the Cantando Cello ensemble has provided a platform for cellists in this country to perform not only solo repertoire, but also to explore and perform the rich and exciting range of compositions for cello ensemble. It gives young cellists the opportunity experience music ranging from Baroque to Contemporary to Jazz, and to learn the art of making music together.
This year's concert features Baroque music in smaller ensembles: quartets, duets and solo performances. On the programme for the 7th is Handel's Sonata for two cellos and piano—a work that was originally written for two violins, but which works beautifully for the warm, singing tone of the cello. Vivaldi's popular concerto for two cellos will also be performed with a chamber orchestra.
No cellist's repertoire is complete without J.S. Bach's suites for solo cello, yet in this country these masterworks are rarely (if ever) performed in public. On the 7th the Ensemble will be performing the 5th suite in C minor in an ingenious arrangement for cello quartet. Also on the programme is the Adagio in G minor that was formerly attributed to Tomaso Albinoni. The authorship of this haunting melody may be in doubt, but its translation into a work for cello quartet is certainly successful.
Among the solo performances will be the early Baroque composer Frescobaldi's Toccata, transcribed for cello by the 20th century cellist Gaspar Cassado, and performed by Dushy Perera. Also of interest will be "Baroque in Rhythm" a movement in Baroque style from Claude Bolling's suite for cello and Jazz piano trio.
Soundarie David-Rodrigo, acclaimed pianist and collaborator, will be accompanying the cellists of the ensemble on the 7th.
The proceeds of this concert are being donated to "Dev Siri Sevana," a home for the impoverished elderly in Welisara.
"Baroque in Rhythm" is on 7th February at 7 p.m at the Russian Centre in Colombo.
Tickets are available at the Lionel Wendt. (MEDIA RELEASE)