December 5, 2014, 9:48p12
No Comments
763 Views
Acer unveils the 2-in-1 Aspire Switch10: Notebook and Tablet in one flexible device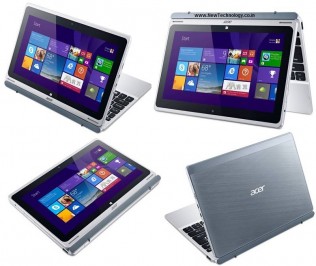 Colombo. Tuesday 02 December 2014. Acer unveils its 2-in-1 Acer Aspire Switch 10 that's a notebook and tablet combined in one flexible device with four modes for touch, typing, viewing, and sharing at any time. The smart device is meant for all ages and purposes from kids to busy businessmen. The Acer Aspire Switch 10 is the ideal companion that helps users stay a touch more connected wherever they go.
From students who want a device for study and play, to business travelers needing multi-functional methods of working and staying socially connected on the go, the Acer Aspire Switch 10 fits smartly anywhere with four modes of usage — notebook, pad, display, and tent.
As a notebook it is a fully functional notebook with spacious keyboard and precision touchpad for comfortable typing and productive work. As a tablet for browsing the internet, viewing movies, and having everything in your hand. As a display screen, to show content, such as a presentation file in meetings or sharing photos with friends. And, the Switch 10 transforms into a tent for use in confined spaces such as an airplane cabin or on a side coffee table.
As the sole authorised distributor for the range of Acer computing products in Sri Lanka, Metropolitan has introduced the most advanced technology to the local consumers.  Acer and Metropolitan are committed to offer today's consumer with new trends and technology to meet their rapidly changing needs. The new Switch 10 is focused on meeting daily computing needs of dynamic life styles of Sri Lankan customer from the youngest to the oldest consumer.
This new model comes with an extra innovation of the Snap Hinge which allows users to switch easily between the four modes. It features a magnetic detachable design for latch-free docking and smooth transition. The Aspire Switch 10 is one of the thinnest 2-in-1 devices on the market, measuring less than 8.9 mm thin in tablet mode and 20.2 mm with the keyboard dock. Weighing just 590 grams for the tablet only and 1.17 kg for the tablet and keyboard, the light and ultra-thin design is ideal as a travel companion. The 10.1-inch display (1366 x 768 pixels) with IPS technology provides wide viewing angle of up to 178-degrees, and richer colors. Zero Air Gap technology delivers more vibrant and crisp images.